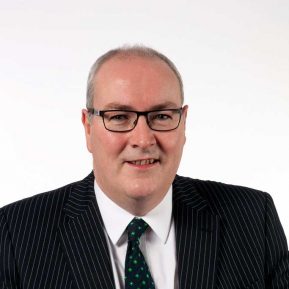 Gerald McHugh
Gerald McHugh joined Express Solicitors as a Partner, in November 2014. Gerald's role as Head of Training at Express means he plays a primary role in leading the Training, providing direction and impetus to the development programs within the business.
As Head of Training Gerald also plays a strategic role, overseeing the focused creation of content, learning materials and delivery.
The development of the talent within Express is at the heart of the success of the business. Gerald's team design and deliver training, taking advantage of the whole range of delivery options. Training at Express is extremely varied and diverse, ranging from traditional group session delivery in seminars to webinars and e-learning. Gerald also leads the design and delivery of small group workshops, working with the firm's fee earners to help develop their knowledge and skills. Individual Coaching sessions complete the compliment of delivery mediums used as a vehicle for targeted accelerated development.
Gerald has spent a considerable number of years managing legal practices as well as training lawyers to become tactical litigators. He created and managed his own firm, McHugh Solicitors, for 15 years and prior to that in his earlier career as a Head of Personal Injury he actually trained several of Express' Partners, including James Maxey and Robin Patey.
Gerald utilises his extensive experience in conducting personal injury litigation over many years including; public and occupier's liability, employer's liability and accidents on the road. Over the span of his career he has worked on numerous high-value and complex actions such as claims involving amputation, paralysis, and head injuries.
When asked what he enjoys most about his role, Gerald answered: "The opportunity to meet so many different types of people and helping them to obtain the justice they deserve."
Gerald believes that being a good listener is essential to success in the industry, he quotes: 'I never learn anything talking. I only learn when I ask questions.