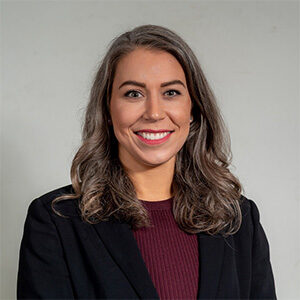 Partner – Barrister – Head of Advocacy
Nyssa Crorie
More about Nyssa Crorie
In December 2016 Nyssa joined Express Solicitors as the firm's first employed Barrister. Her rapid promotion to Partner in September 2019 is indicative of the level of expertise and experience that Nyssa brings to the firm.
Nyssa went on to develop and lead the firm's Advocacy Department, managing the expansion such that it now consists of numerous Barristers, Advocates and Clerks. The tight-knit team provides expert support to all lawyers in the firm to cover all manner of court hearings, drafting work, and requests for advice.
In addition, Nyssa single-handedly navigated the stringent application process to successfully satisfy the Bar Standards Board that Express Solicitors should be granted AETO status. This has established the firm as an authorised provider of pupillage for budding employed barristers. Nyssa has been supportive of the regulator's modernisation of the pupillage process, commenting on how refreshing it is to see key principles such as affordability, accessibility and flexibility deemed to be equally as important as the customary high standards of training.
Nyssa, as Head of Pupillage, oversees the pupillage application process from start to finish. This includes being involved in sifting applications and interviewing promising candidates to test their legal knowledge and advocacy skills.
Outside of her management responsibilities, Nyssa is still a robust and diligent courtroom advocate who will leave no stone unturned in pursuing the best possible outcome for those instructing her. She has well over a decade of experience in civil litigation (particularly personal injury, e.g., road traffic, EL, PL, OL, fraud, disease, catastrophic injury, etc) and costs. Nyssa is also regularly called upon to assist with all manner of complex procedural disputes.
Nyssa prides herself on her fiercely conscientious work ethic and personable personality. She strives to make a difference by taking the time to offer specific and thorough advice, especially when instructed in difficult cases, ensuring it is always delivered with a calm and reassuring approach. She enjoys being the fresh pair of eyes that will often bring a new perspective on a case. Nyssa receives excellent feedback from the lay clients she represents at court, who recognise her efforts to put them at ease and guide them seamlessly through what could otherwise be a confusing and stressful experience.