The Foundation was created, and is chaired by, Maggie Oliver, the former police detective who left Greater Manchester Police following her exposé of the Rochdale Grooming Scandal.
In 2019 having resigned from her position as Detective with the Police several years ago, she established the Maggie Oliver Foundation to fight for justice for survivors of sexual abuse. The primary focus of the Foundation is to help survivors transform their Pain into Power.
Claire Reddicen, an Associate Chartered Legal Executive with Express Solicitors has several years' experience working on these harrowing cases and achieving justice for her clients. Claire has developed a strong relationship with The Maggie Oliver Foundation as she has offered her support to provide legal advice and assistance for victims of abuse who do not know where to turn for help in terms of making a claim for the damage suffered.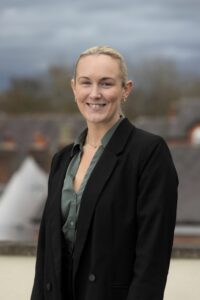 Claire acts for survivors of childhood sexual abuse; seeking compensation on their behalf from the Criminal Injuries Compensation Authority (CICA) or from Local Authorities or other institutions responsible for their care when the abuse occurred.
Claire says "The Maggie Oliver Foundation supports survivors of childhood sexual abuse and exploitation. I am very proud to work with survivors who are supported by The Maggie Oliver Foundation in the fight for justice for survivors of abuse. I act for survivors of recent and historical sexual abuse, rape and more commonly domestic abuse.
I am very passionate about helping survivors of abuse in their fight for justice and recovering maximum compensation to help them with their future."
How can we help?
Often, compensation can help to fund treatment costs, which can be difficult to access on the NHS. It can also help with security for the future. Many survivors of abuse have suffered significant psychological harm which often affects their working life and financial circumstances and seeking compensation can help to secure a better future and live a better way of life, which is greatly deserved.
Claire says that she offers her support to survivors and takes on the burden of bringing the claim and gathering the evidence required to support seeking the highest possible award of compensation on their behalf.
Claire explains that she supports survivors in claiming compensation from the Criminal Injuries Compensation Authority which is a scheme for blameless victims of crime. "Whilst compensation cannot undo the horrific ordeals survivors have been through, for many survivors this is an acknowledgment of what they have been through and can allow some degree of redress.
I have supported many survivors whose claims to the CICA are refused, either on eligibility grounds or due to the claim being brought outside of the usual time limit for bringing a claim.
I regularly submit review applications and appeals to the Tribunal where the Criminal Injuries Compensation Authority have made an incorrect decision or where a higher award of compensation is sought."
Examples of increased awards
Claire reports that clients do not know that they need medical evidence to establish psychiatric injury, as it is classified under the Scheme, to link it to the abuse. And if they do so this can double the award in some circumstances. Clients also have no idea if they are making a CICA claim themselves about gathering all the employment history which is necessary as evidence.
Claire says "I have been successful in achieving significant awards for survivors of abuse who have suffered psychological trauma as a result of the abuse, which has affected their working life, with their loss of earnings being paid into the future and to their retirement date.
One example is a victim of sexual abuse who came to me for advice when she had been offered £22,000.00 by the CICA. The client had made the application herself. The CICA had merely undertaken a review of her medical records and accepted the claim but made this offer. On the face of the award, it looked like a significant sum of money to the client. However, upon taking detailed instructions it was clear that the claim was worth much more, as the client was only in her mid-20s, she was unable to leave her house and would never be able to work again.
I obtained a psychiatric report and applied for a review of the decision together with other evidence. The CICA then accepted the review and made an increased offer of £60,000.00. Although this was a significant improvement on the initial offer, almost three times as much, I advised my client that I still felt that this was nowhere near enough.
I then instructed a Barrister and appealed the decision and after a long fight we managed to secure an award of £230,000.00 for this client which is approaching the maximum possible award the CICA can make. The client was thrilled that she had not accepted the first or second offers and relieved that she had taken and followed legal advice rather than trying to deal with it herself. A Personal Injury Trust was also set up for the client in order to protect her award."
Institutional Abuse
Claire has been involved in several claims against institutions including Local Authorities where foster parents have been guilty of sexual abuse. Also, where people in charge of children's homes have also abused their position and even physical abuse meted out by Social Workers.
Claire has been contacted and acted for victims of abuse at The Broomfield Children's Home in Surrey from the mid to late 1970s and victims of abuse at Nash Court School and Castle Hill School, both in Shropshire.
Claire advises that it is not just female survivors who have been victims of abuse. Claire reports that she is seeing an increase in the number of male survivors who are making contact with her for legal advice about making claim for historical abuse whilst they were at institutions.
The Maggie Oliver Foundation provides support for men over 18 years of age who have experienced any form of sexual violence in their past or as an adult and it is important that all victims of abuse are given the opportunity to receive support and guidance.
Claire says that she is very proud to work with survivors who are supported by The Maggie Oliver Foundation in the fight for justice for survivors of abuse. Claire is extremely passionate about helping survivors of abuse in their fight for justice and dedicated to recovering compensation to help them rebuild their future.
Should you need support and assistance with any of the issues outlined above please contact Claire at claire.reddicen@expresssolicitors.co.uk or on 0161 904 4660.
Survivors can also contact The Maggie Oliver Foundation for emotional support or help liaising with the police at help@themaggieoliverfoundation.com.