Multi vehicle road traffic accident claim successfully secured over £2m compensation for life changing injuries
Client stories
How to claim for a road traffic accident
Want to know more about claiming for a road traffic accident? Jargon free, we'll explain your legal rights, letting you know everything you need to know about claiming.
How much compensation can I claim for a road traffic accident?
Read our medical negligence legal guides to understand your legal rights and how much compensation you may be able to claim.
Liability in multi vehicle compensation claims
Robin Patey, comments: "For a claim for compensation to be successful in a road traffic accident, the solicitor must be able to prove that another driver was at fault. If you caused it, you have no case.
"Generally, any vehicle that hits a car ahead of it is liable for that specific collision. So, in the case of multi-car accidents, there can be several cars held accountable. In complicated cases such as Mr Davidson's, it wasn't straightforward and required the expert advice and experience of the team at Express Solicitor to successfully proportion liability."
On the day of the road traffic accident, injured party shares details
Recalling the day of the accident, Ritchie can only remember the events from what he has been told, rather than what he remembers: "I was one of four in the car at the time. We were all work mates, employed by a hotel refurbishment company. We had set off from Tiverton to Bristol to work on the Avon Gorge Hotel. The drive usually took about 50 minutes and we'd aim to arrive in Bristol at around 7:00am.
"The accident happened on the M5, between junction 25 and J26 at around 6:15/6:30am. A car, driven by a female driver, suddenly swerved across from lane one to lane three, crashing into the central reservation.
"The car was then stationary in lane three and was consequently struck by a dark coloured Mercedes.
"This impact caused the car to move further up the motorway into lane two, which is when the car I was travelling in collided with it. After spinning around a few times, the car ended up in the middle lane, but side on, with the door facing oncoming traffic. An Alfa Romeo then hit us head on, probably distracted by the accident, but we ended up on the hard shoulder and needed to be cut from the vehicle and suffered serious injuries.
Injured party shares recovery from multiple surgeries
"Two of us from the front of the car were both air-lifted to the local hospital, Southmead Hospital and placed in a coma. Doctors said that my broken neck alone should have killed me but I kept on fighting and coming through all the operations. As well as a broken neck, I broke my back in five places, had several broken ribs, a punctured lung, and a ruptured spleen which was later removed. My pelvis was smashed into eight pieces and the impact also tore my diaphragm, broke my Coccyx bone and smashed my ankle and perforated bowels and kidneys. I also had a ruptured artery in my stomach, the pelvic fracture tore through my urethra, also my sciatic nerve.
"It took lots of surgery to rebuild me!"
"I was in a coma for around a month and in hospital recovering for three months – two months in Bristol and the third month I was transferred nearer home to Exeter. After discharge to recuperate at home I was still in and out of hospital with various infections and fluid on heart, all sort of complications.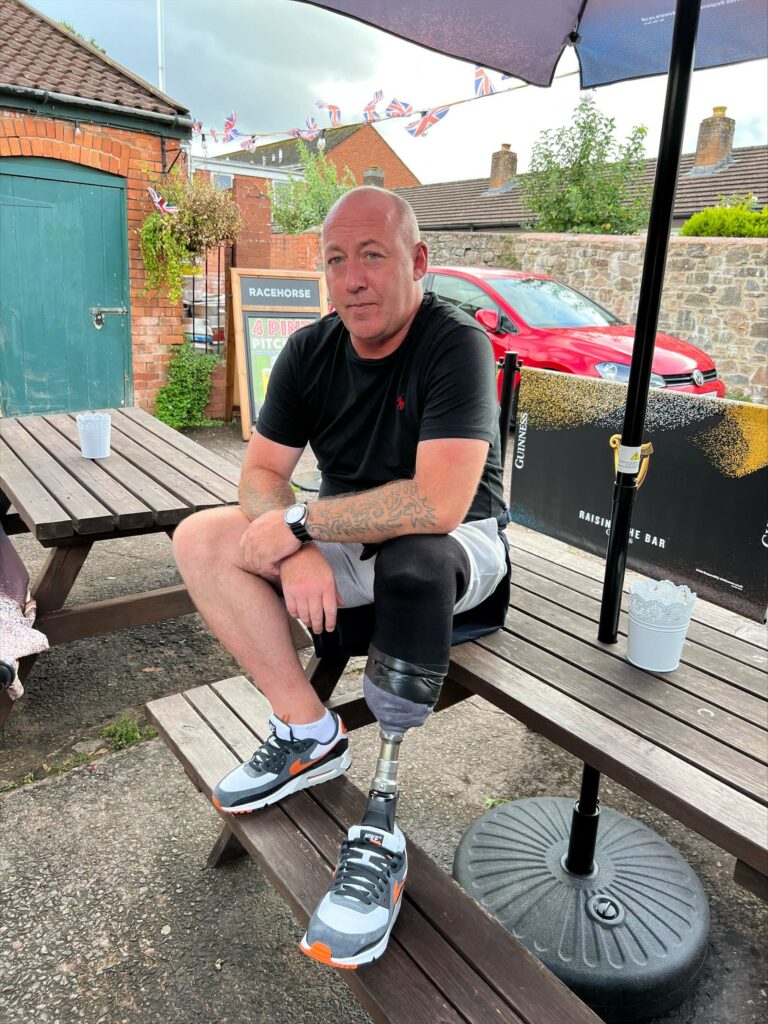 Amputation of lower left leg was only available option
"Unfortunately, despite all the surgery, I ended up requiring a lower leg amputation to my left leg in August 2021. I'd had a lot of metal work and scars that weren't healing as well as they should have been, and I was left with a horrible skin graft on my ankle and severe nerve damage. I couldn't bend it, and it was very painful, and I figured that I was never going to walk properly again so I decided the best course of action to maintain a better quality of life was to have it removed.
"As a result, I had to make several adjustments to my life. I've not been able to work since and will never be able to go back to the manual work I used to do prior to the accident. I still get a stiff back, lots of aches and pains and my neck hurts. I can only turn it so far one way. I supposed the leg injury in the end was the worst of my injuries to overcome. I'm slowly getting used to the various prosthetics but these things take time."
Rebuilding after life-changing injuries
"I'd like to return to doing some work and have been looking forward to starting on my first renovation project. I've used the compensation to buy my first project, a two-bed semi and I'm keen to build a new house for myself on the grounds of it.
"Knowing life was never going to be the same and facing a long road to recovery is really what prompted me to explore compensation. I wasn't to blame so I knew I'd stand a fairly decent chance of obtaining some kind of financial compensation to aid my recovery."
Making the decision to seek compensation
"It actually came about following a conversation in hospital between my aunt and sister. Concerned about my long-term prognosis, they urged me to at least make a call.
"We independently went and did some online research and we both came back with Express Solicitors."
"I called and spoke to Robin and he arranged to come and see me and the rest rolled on from there. The case was eventually settled 4.5 years after the accident and all throughout the process Robin and his team kept me informed. They were all very informative and on the end of the phone or email whenever I had a question. They kept me updated at every stage and on the decisions that were made. Simply brilliant."
Expert settlement
Robin added: "In complicated cases, expert legal advice is especially crucial to your success with your claim. We have handled countless cases involving multiple vehicles. However, sometimes it is not clear – even if just two vehicles were involved.
In this case, being able to obtain CCTV footage and proportion the blame to the other three drivers was key to the success of Mr Davidson's compensation claim.
Call us on 0161 904 4661
Lines are open now and our legal advisors are on standby to tell you if you can make a claim.
Start your claim online
Complete our simple form to receive a call back from our expert legal team.